I'm only joking... he's my best friend and constant companion and despite his frown on this photo he's got a really great sense of humour!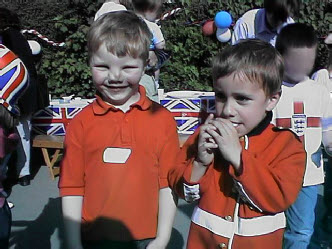 Then there was starting school.
I knew a few of the other children from local playgroups.
There were lots of children who were curious about me.
The day after I was born I had major surgery to correct a problem. My stomach wasn't joined to my throat, so I couldn't eat or drink.
It was called T.O.F.S. which is short for Tracheo-Oesophageal Fistula Syndrome.
I was also born with O.A.F.N.S. Which is short for Oculoauriculofrontalnasal Syndrome.
Which meant my face was uneven. My eyes are deep set and quite wide apart. The fleshy point to my nose was missing. I had skin tags down the underdeveloped side of my face and a dermoid in my right eye.
So... although I didn't get off to a flying start and there were one or two hurdles along the way, life was fun.
Some of them didn't like that and still called me names.
They wanted to know: "what happened to you?"
They thought I'd had an accident or something!
I told them nothing has "happened to me". I was born like this.
The surgery removed the dermoid but made the eyesight in that eye worse!
At school, the name calling got worse.
Wearing glasses didn't help that either so I stopped wearing them even though I couldn't see so well after my eye operation.
I joined the cubs... and the local church youth group and everyone there was really nice. It was just great!
We went off to camp and did all sorts of things.
This was about the time when Changingfaces came to help me sort things out at school.
Unfortunately the school couldn't change very fast so I home schooled for a short while.
I just couldn't get away from the unpleasant people.
School got worse and worse. More people joined in and even though the teachers tried, it carried on...
I was getting punched and kicked now.
Because school was such a problem I decided to make it a smaller part of my life, so...
together on things like making sure I was not put in the
same class as the people who had bullied me.
My new school doesn't tolerate any sort of bullying at all
People still look at me... and some people stare.
The name calling went on for a while and was upsetting.
I had an operation to remove the dermoid from my eye and another to make my nose look more like other peoples.